ECEMP 2023
Net Zero, intermediate targets, and sectoral decarbonization facing geopolitical and macroeconomic challenges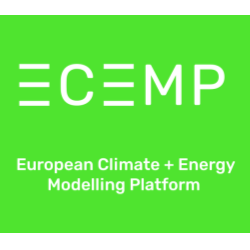 The annual ECEMP conference brings together Europe's climate and energy modelling community over a three-day period in a forum for deep exchange of research and modelling practice and varied discussions. The event will feature a balanced mix of high-level panel discussions and interactive workshop sessions to enable a peer-reviewed digest of models and policy insights for the transformation of the European energy system. The ECEMP 2023 conference will be a platform for exchange among researchers and modelling teams from across Europe; from H2020 projects, representatives of the European Commission as well as partners from industry and civil society.
In agreement with the European Commission, the former EMP-E Conference has adopted a new name, "European Climate and Energy Modelling Platform (ECEMP)", to consider the increasing role of climate policies and climate change and their impact on energy demand and supply planning.
The original EMP-E was created in 2017 and has since been organised on a yearly basis by the H2020 Energy Modelling group – a group of projects funded by the European Commission's Research and Innovation Programme. This year, the event is coordinated by ECEMF – the European Climate and Energy Modelling Forum. The conference does not have a registration fee as it is funded by the European Commission. The project contributing to the conference has received funding from the European Union's Horizon 2020 Research and Innovation programme.
This year, the overarching topic is: Net Zero, intermediate targets, and sectoral decarbonization facing geopolitical and macroeconomic challenges
The submissions are now open! We are collecting papers for oral presentations to contribute to this year's "European Climate and Energy Modelling Platform (ECEMP)".
The submission link is now available here and the deadline for the paper submission is the 23rd June 2023. In order to complete the submission please fill out the form and upload you full paper or extended abstract (minimum 500 words and one figure or table) by sending it to ecemp@ecemf.eu
Days and themes
Day 1: Mid-term targets towards Net Zero and sectoral challenges
Role of electrification, hydrogen and e-fuels on the road to climate neutrality
Transition to a sustainable, zero-emission transportation system
Socio-economic impacts of the transition
Carbon leakage and the role of hard-to-abate sectors
Energy consumption of large data centres
National Energy and Climate Modelling efforts and scenarios
Short- and medium-term policy target implementation
Multi-model comparisons as a method for robust policy analysis
Climate impacts and adaptation estimates in the near term
Day 2: Macroeconomic and geopolitical challenges and the Net Zero transition
Digitization, innovation, and other societal mega-trends
Energy security and geopolitical risks
Fossil fuel and carbon-free fuel trade implications
Energy security in Europe
Interlinkages between energy transition and security in the EU
Inflation and the impact of energy prices
Subsidies and carbon taxes – macroeconomic implications
Feasibility of policies and scenarios
Behavioural trends and consumption patterns in net zero scenarios