Map Unavailable
Date/Time
Date(s) - 5 October 2022 - 7 October 2022
All Day
Categories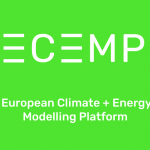 This year's conference will be planned again as an online event, due to uncertainties regarding the possibility of physical meetings.  We will set up the same possibilities for interaction as last year to ensure an engaging, policy-oriented and enjoyable conference experience.
This year, the overarching topic is: Acting on the ambitions to a net-zero EU: roadblocks, challenges and opportunities.
The registration portal is now available and the deadline for the submissions is the 20th June 2022.
We encourage submissions which fit the following topics:
Days and themes
Day 1: Energy security and geopolitics for fossil and low-carbon fuels

Energy security and geopolitical
Fossil fuel and carbon-free fuel trade implications
Energy security in Europe
Energy access and poverty
Interlinkages between energy transition and security in the EU

Day 2: Innovation, societal and technical changes for Net Zero

Socio-economic impacts of the transition
Role of energy consumers in the transition
Role of hard-to-abate sectors
Role of electrification, hydrogen and e-fuels on the road to climate neutrality
Transition to a sustainable, zero-emission transportation system
Digitization, innovation, and other societal mega-trends
Energy consumption of large data centres

Day 3: The latest IPCC findings and implications for national and short term policies

National Energy and Climate Modelling efforts and scenarios
Short and medium term policy target implementation
Multi-model comparisons as method for robust policy analysis
Debate: Coherence between national and EU-wide modelling analyses for short, medium and long term
Findings from the IPCC reports – Climate, Impacts and Adaptation, Mitigation
Influence of climate change on energy demands, supply and infrastructure in the EU
Environmental Assessment for energy modelling
Accounting for climate change impacts on renewable resources